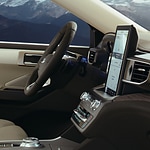 Adventure awaits. The drive to your office needs to be prompt and efficient. Your child's recital wouldn't be perfect if you are late because of an unreliable automobile. There are countless examples where your vehicle makes things possible. The possibilities will quickly collapse if you are without a vehicle you can count on.
Technology is a feature found in an automobile that brings with it a lot of important uses. Infotainment, like a touchscreen with Apple CarPlay and Android Auto, is one of many examples. The Ford Explorer has these features that help make your time in Fishers, IN more enjoyable and productive. Once connected to the infotainment system through Apple CarPlay and Android Auto, you can make hands-free phone calls or listen to your favorite song all through your smartphone apps.
You will also find technology through safety features in the Ford Explorer. The Blind Spot Information System will sense and alert you if a vehicle or pedestrian is occupying your vehicle's blind spot. Those of us at Don Hinds Ford Inc appreciate features like this that make sense and are functional.