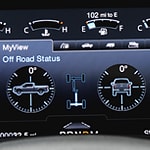 For a truck that you can count on to supply power when you need it most, check out the latest edition of the Ford F-150. This versatile truck line-up is in the showroom today at Don Hinds Ford Inc in Fishers, IN, and our knowledgeable team is ready to show you all of its many amenities and high-performance features.
The options available for the F-150's powertrain include gas- and diesel-powered engines in a variety of sizes and configurations. A corresponding 10-speed transmission delivers power from the engine to wherever it needs to go smoothly and efficiently.
The F-150's lightweight construction contributes to its superior payload while its durable, high-strength structure allows it to tow loads of up to several tons with ease. The carefully configured cab supplies additional space for work gear, tools, or extra passengers to suit whatever your situation calls for.